WONDER WOMEN OF AMERICA
jeudi 3 juillet 2008, par Michael Dupouy
Nouvelle publication à venir chez Amos Book, maison d'édition de l'artiste James Jarvis.
Hommage aux filles costumées qui envahissent chaque année le Comic-Con de San Diego.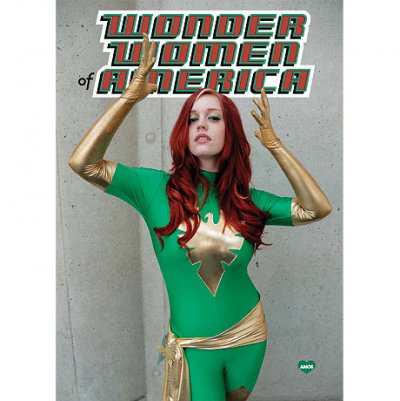 Every July, San Diego, California plays host to one of the world's biggest multi-genre fan conventions. Thousands of fans of comic books, science fiction, fantasy, animation and video games, travel from all over America to celebrate their passion. Many dress up for the occasion.
This book is a celebration of the women who come dressed in costume : the super heroes and super villains, the warrior women and pirates, the queens and princesses, the sea nymphs and the fairies. They come from all walks of life, in all ages, shapes and sizes. Colourful, sexy, glamorous, geeky and proud ! These are the Wonder Women of America.
Compiled over 4 days at the 2007 San Diego Comic-Con, Wonder Woman of America contains 185 photos of more than 100 women, dressed for thrills. There's an scene setting introduction by Russell Waterman, and quotes from many of the women, giving some insight into why they dress in costume.

Click here to visit the Wonder Women MySpace page.

Wonder Women of America
by Ruth Wiggins and Russell Waterman
Photography by Ruth Wiggins
192 pages, full colour
Paperback, 176mm x 250mm
ISBN 978-09552-19030
Published July 2008